Brief Biography of Nonjohn
(Nonjohn was 17 years old in the photo above.)
Mystic, philosopher, artist, and designer, Nonjohn was born "John Tilmon Tennison" at Wadley Hospital in Texarkana, Texas, on September 16, 1968 (Mexican Independence Day). His conception was the product of a ruptured condom which occurred on Christmas, 1967. He is an 8th-generation son of the American Revolution and a 6th-generation Texan who lives in San Antonio, the Cradle of Texas Liberty. The third of four children, Nonjohn was born to Alfred Austin Tennison, Jr. and Nancy Marilyn Tennison. Nonjohn's three siblings include 1st-born older brother Alfred Austin ("Trip") Tennison, III; 2nd-born sister Mary Tennison; and 4th-born younger brother, Joseph Gleason Tennison.
---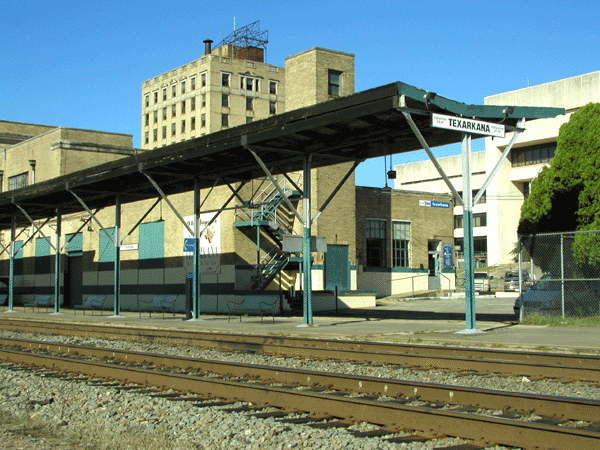 Straddling the Texas-Arkansas state line, Union Station was a major hub for the Texas & Pacific Railroad. The McCartney Hotel lies on the first city lot sold in Texarkana (by the Texas & Pacific Railroad), and can be seen rising in the background. It was in Texarkana, a city created by the railroads, that Nonjohn was born. The effect of the railroads has continued to reverberate in the life of Nonjohn and his art, resulting in his also being known as "The Texarkana Train."
---
Nonjohn's father, Alfred Austin Tennison, Jr., is a 5th generation native Texan. The Tennison family settled near Mount Pleasant in Titus County in Northeast Texas in the 1850s after migrating from Georgia. Alfred Austin Tennison Jr.'s mother, Edith Dorsey Tennison, was the daughter of Henry Shreve Dorsey, named after Captain Henry Miller Shreve, for whom Shreveport, LA, was named.
---
Nonjohn's Great Grandfather, James Morgan Tennison, erected the Tennison Brothers, Inc., Factory Building in Texarkana, Arkansas, on Broad Street near the turn of the 20th Century. The Building was only a few blocks away from Union Station and the Arkansas-Texas border. The Tennison Brothers company manufactured various sheet steel products. Materials were brought in and out of the Tennison Brothers building by steam locomotives on the Texas & Pacific and Missouri Pacific Lines. Box cars rolled along the train tracks seen in the foreground above through the large open doorway that can be seen in the middle of the building. These tracks extended through to the other side of the building. Although the Texas & Pacific and Missouri Pacific companies converted to diesel engines in the mid-1950s, Nonjohn's fascination with steam locomotives and the sound they make was inspired by stories he heard as a young boy from his father and factory workers about the steam locomotive traffic in and out of the Tennison Brothers factory.
---
Nonjohn's mother, Nancy Marilyn Tennison, is a direct descendent of Joshua Belitha Tilghman, born January 16, 1762, in Somerset County, MD; and who, at a very young age, fought in the American Revolution. In turn, Joshua Belitha Tilghman (Nonjohn's great, great, great, great, great grandfather) was a direct descendant of eight kings of England, including William I ("The Conqueror"), Henry I-III, John, and Edward I-III.
---
Nonjohn makes his music and other artistic creations at Studio Psychosis. Nonjohn is a multi-instrumentalist who draws eclectically on diverse styles of music and instrumentation when composing, recording, and performing his music. Besides this "World Music" approach, Nonjohn is also known for his unique Boogie Woogie style, also known as "Nonjohn Jazz."
---
Union Pacific Steam Locomotive 3985 arrives at Union Station in Texarkana on June 17, 2004.
---
In addition to expressing his artistic drive through the persona of Nonjohn, Tennison also is also a physician who practices transpersonal, preventive, and ultimalogical psychiatry. Tennison received his M.D. degree from the Stanford School of Medicine and completed a residency in psychiatry at the University of Texas, where he served as chief resident physician. Among other reasons, he chose to study psychiatry because of its emphasis on understanding creativity. Before enrolling in medical school, Tennison earned his Bachelor of Arts degree in psychology from the Johns Hopkins University. While at Hopkins, he studied music at the Peabody Conservatory of Music.
---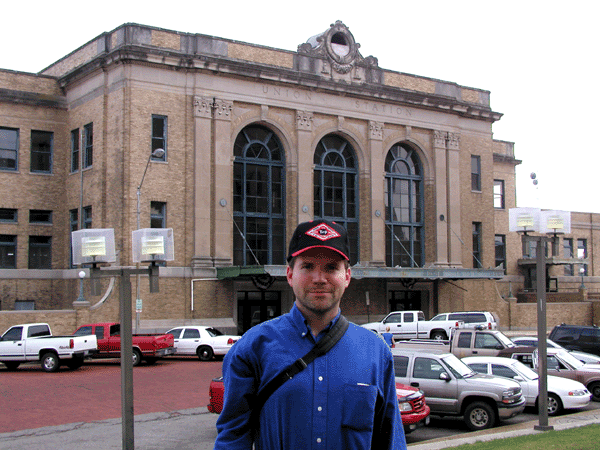 Nonjohn (wearing his signature Texas & Pacific baseball cap) standing in front of Union Station, a structure that straddles the Texas-Arkansas border in downtown Texarkana.
---